Contract manufacturing for retail chain store.


― RETAIL ―
We support the mass sales stores' and fashion chain stores' requests for production and distribution.


Our integrated system of planning , production and distribution can meet various demands of clients. Our services and solutions interacting with clients' strategy. From planning to distribution, we support the satisfaction of the end user . Also, we ship to wide range of area, supporting chain store from distribution aspects.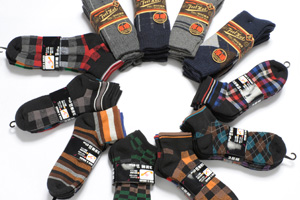 ●MEN'S SOCKS
Original strict quality control on the premise, a large portion of an accurate and efficient production is possible through the cooperation of other factories domestic and abroad. We are proud to announce that delivery demands for multiple shipments to many different places along with small and difficult sorting can be solved by our original distribution system.
HOME > Contracted development > RETAIL COMPANY