MITSUBOSHI SOCKS' "Planning capability".
Feel free to ask for a consultation. We are capable of meeting various clients' needs and demands.


Since the foundation of the company, many requests in innovating socks production process were made.
The request made by clients like, brand makers and chain stores. Upon these requests, many studies of raw material, research in adjusting knitting machines are applied. Sometimes, producing knitting machines with machine builders, if necessary. By going through these tasks, we have accumulated new knowledge one by one. These process made us to grow and respond to produce many different kinds of orders.
まず、ご相談ください。企業様のさまざまなオーダーに対応したご提案をいたします。


三ツ星は創業以来、ブランドメーカー様や流通チェーン様から、新機軸の靴下製法を求められる度に、 原料糸の研究を重ね、編機を選定し、必要に応じては編機自体を機材メーカーとともに開発することで、 新しいノウハウを一つずつ集積し、さまざまなオーダーに対応できる生産体制を確立してきました。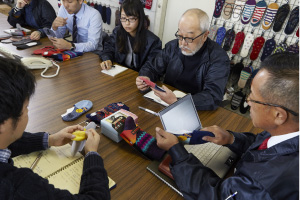 ●Planning & meeting
Beyond conventional dividing lines between departments we have arranged a system that all employees understands the socks manufacturing process, from the first design to final phase of shipping out the products. Without the distinction
between managerial rank and position any employee's slight idea is considered sincerely and immediately. This stance is encouraged throughout the company.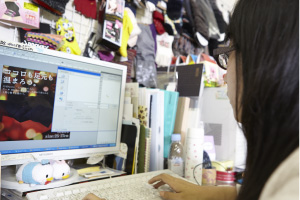 ●Design
Requests from the customer and the present fashion are adjusted by the our design specialist . The most suited design is built and selected for each and every idea. We also think about how it will be seen at store front. Therefore, packages and other sales promotion tools are devised at same time.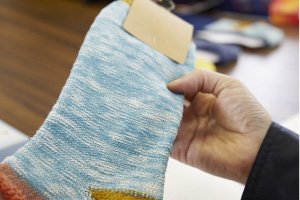 ●Yarn Selection
The emotional elements and functional elements are balanced in selecting the yarn. The most suited yarn is selected based on the product's concept. For health and medical socks , we use our best understanding and knowledge in ergonomic . When selecting material that are gentle to human body or selecting yarns with poshness for fashion related items, we select yarns that corresponds to the product's concept. When practicality is needed to be emphasized for daily socks, we look for low cost but good quality yarn.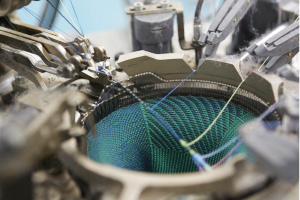 ●Knitting
In achieving the best result with the carefully chosen material, it is important to simulate the most suited way of knitting. Not only outward appearance and the design, but also fit and feel of the product. A delicate planning using computer comes into place at the last part of production. This imperatve process improves the quality .
HOME > MITSUBOSHI SOCKS' value > PLANNING POWER